Custom Pendant Necklace Manufacturer, Wholesale Supplier - Pollux Enterprise
Elevate your style with classic and modern pendant and necklace and even for pets. Pets are (wo)man's BFF. Talking of materials, Pollux-Enterprise.com offers incredible custom necklaces for pendant necklace wholesale. Made of quality material with toughness and durability to withstand all outdoor elements. Their light weight adds less weight on the neck of pets to allow them to play comfortably while their heavy-duty features ensure that they can resist the pull force of those energetic playful pets. These items are made of soft and comfortable materials to prevent strangulation. Similarly, these products are lined with soft padding to protect the neck of the pet from irritation.
Visit Pollux-Enterprise.com to get a great selection of custom necklaces. Options that are perfect for various buyers. Clients also have an opportunity to choose products from various pendant necklace suppliers and manufacturers who offer quality items for them to pick. In this online store, there is something for every pet.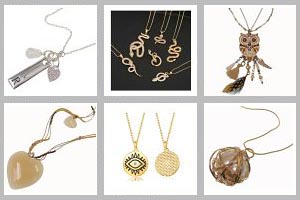 Tip from Pollux Enterprise and Pendant Necklace Manufacturer: Wearing Pendant Necklaces Like A Pro
As a pendant necklace wholesale supplier and manufacturer, Pollux Enterprise surely knows how to wear custom necklaces.  Layering custom necklaces have long been popular with everyone, from celebrities to ordinary people, they all want to create a unique appearance with the customised necklaces. Wearing multiple necklaces at a time or, simply said,  layering custom necklaces are quite popular and trendy, as seen by a simple look at Instagram, TikTok, or Facebook. Some individuals wear up two or more custom necklaces each time to create a balanced aesthetic. By combining more custom necklaces of varied lengths, materials, thicknesses, and colours, the more sassy you look. Layering necklaces, on the other hand, entails more than simply arranging separate parts. Here are five pointers to help you get the finest stacked necklace appearance possible:
Make Use of Two-strand rack: The first step in layering appropriately is to lay a framework. Pendant necklace suppliers recommend to begin with a two-necklace set, with each chain having a comparable thickness. If you want to match it with a custom charm necklace, make sure it is at the bottom, then layer on more pieces with different textures, thicknesses, and lengths. This adds dimension to your jewelry, preventing it from looking clumpy. Mix necklaces of similar thickness and length for a subtle 'everyday appearance.'
Opt For Adjustable Necklaces: Finally, select chains that tailor your style when it comes to layered necklaces by opting for customizable necklaces. One method is to clasp chains on a shorter link until you reach the length you want. Include necklaces with a variety of fastening options or that are connected with a thread so you may choose where they fall on your neck or neck bone.
DIY Necklace: Charm necklaces have never gone out of style, and they are still a wonderful way to customize your ornaments. Charm necklaces are for everyone, whether they resemble your favorite animals, flowers, or fortunate charms. Mix metals and thicknesses to create a statement appearance; for example, combine a thin chain with a much thinner charm chain to make one large statement necklace.
Pollux Enterprise and Pendant Necklace Supplier: Providing you with a wide range of custom pendant necklaces
Now that layering is so popular, where can you find necklaces that meet your demands? Pollux Enterprise, the pendant necklace wholesale supplier can supply you with numerous necklace choices to complement your attire.
A pendant necklace is a good choice if you want a classic custom necklace. A pendant is a piece of jewelry that hangs freely from a chain and is usually linked by a tiny loop. This type of necklace works well in both formal and casual settings. It displays your sense of style, which is a valued thing in any scenario.
Choose a statement necklace if you want a stunning necklace that everyone will notice right away. It is a lovely necklace that makes a powerful statement when worn. Statement necklaces are available from Pollux Enterprise in a variety of styles, including fringe, art deco, and breaded tribal. In simplistic terms, this beautiful necklace is huge and potentially over the top, yet it works with simple clothing.
Chain necklace, the resemblance of "funky" and "chunky". Layering chokers, pendants, and thick golden chains to create a tailored gilded aesthetic. Having a few chunky gold chains on hand is a good idea, since they can change any casual look into something more beautiful with a single strand or two.
Pollux Enterprise: Custom Pendant Necklace Manufacturer, Wholesale Supplier FAQs
How can I purchase from Pollux Enterprise?
Please contact Pollux Enterprise at  +852-26370281 or e-mail us to enquiry@pollux-enterprise.com if you want to make a purchase. If you have any questions regarding our pendant necklace wholesale or  manufacturer, please do not hesitate to find us.
If you want to discuss the custom pendant necklace wholesale details in person, you are welcome to visit our office at Unit 8-9, 6/F Yale Industrial Centre, 61-63 Au Pui Wan Street, Shatin, Hong Kong.
Do you participate in watches and jewelry trade shows? Can I see the products in person?
Yes, we often participate in trade shows to showcase products from pendant necklace manufacturers. You can reach us in various trade shows and get the samples in person. Watch this space for the latest event! Or we can send you pendant necklace samples to take a look if you are overseas wholesalers.
What are the advantages of Pollux Enterprise as a pendant necklace supplier?
We are flexible with different forms of cooperation, in addition to the conventional operation i.e Pollux Enterprise supplying different pendant necklaces for wholesale, in which we act as an exporter and maintain a buy-sell connection with customers.
Do I get a bulk purchase discount if I purchase from Pollux Enterprise?
Wholesale pricing is applicable for necklace wholesale. We can work on a pricing for wholesale necklaces that we can all agree on.  Please do not hesitate to reach us if you are interested in purchasing necklaces wholesale.