Hair Scrunchie Manufacturer, Wholesale Supplier
Pollux Enterprise Limited designs hair scrunchie to match with your daily and festive look. Our hair scrunchie is in different forms which is the best accessory for festive seasons like Easter, Christmas or Halloween customs to match with your ultimate look and occasion! Find the hair scrunchie wholesale supplier that will fill your shoppers with nostalgia.
Styling Pretty Hairstyles with a Hair Scrunchie Supplier
With a hair scrunchie, you only need minimal effort to make yourself look great. Simply wrap the scrunchie around the hair tie that's holding up the pony and it's done! Whether you are back to school with a black scrunchie to match your school uniform or go wild with some colours for your party, adding hair scrunchie can bring your hairstyle to the next level.
If you have curly or wavy hair, just set aside a thick scrunchie to make some easy hairstyles. Simply put the scrunchie on, you put your hair in, then twist and turn and put your hair through again so you can easily go from day to night.
The most basic of looks must be a middle-parted ponytail, using hair scrunchies to tie your hair will add something exciting to a simple ponytail. You will stand out for your creativity with our hair scrunchie while spending a little extra time on your makeup or outfit. It is no more classic than a scrunchie.
As more companies allow employees to start working from home, gone are the mornings spent styling your hair before going to the office. Simply tie the hair with scrunchie and sit in front of the laptop to work so the hair doesn't fall onto your face especially when you're having lunch break and cooking at home. Also, when you are baking and decorating custom cookies, tie your hair to avoid creases in your hair. Hair scrunchie manufacturers are foreseeing demands from women buying hair accessories and selling more on Amazon!
Wanna try a high ponytail? Looking for a functional, practical, but also beautiful hair scrunchie? As an experienced hair scrunchie manufacturer, we can provide all the fuzzy scrunchies to complete your look.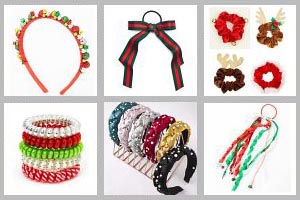 Hair Scrunchie Suppliers with Designs
Your ponytails are going to look wonderful with various hair scrunchies. To start with, the small thin ones are suitable for braids to keep your hair up. Some hair scrunchies come with bunny-like ears. It adds lovely bow details which would be a cute choice for kids.
Medium-sized hair scrunchies will definitely let you stand out especially when it's with fancy colors or patterns. If you need to leave an impression on your date or events, try bold and printed ones. On the contrary, if you like neutral ones, you better try black, brown or grey scrunchies.
With the summer heat and beach activities going on, it is a good idea to keep your hair away from your neck and face to feel cool. Buy a new hair scrunchie from the wholesale to match your summer look and swimming suits. On fall/winter occasions, hair scrunchie would be a must-have item that will make you feel like you are an influencer. Any good outfit must be accessorized to be instagrammable. An adorable brunch scrunchie that is the perfect addition for dressing up.
Grab your Hair Scrunchie with Pollux Enterprise
We are a hair scrunchie supplier that exports hair ornaments, fashion accessories, artificial plants and hair scrunchie to worldwide markets with more than twenty years of experience. We are experts in hair scrunchie manufacturing.
Hair scrunchie manufacturers use elastics that are kind to hair, especially for hair that needs special care, dry, or already damaged. Tension maintaining elastic means your scrunchie won't lose its shape or stretch. We care for our customers and that is why we only create products that are the best. They are perfect to be worthy of every hair type. Hair scrunchie suppliers will find our scrunchies help the hair grow to its maximum potential and seldom cause breakage.
Cotton is the commonly used material for manufacturing hair scrunchie. Hair scrunchie wholesale also provides a variety of fabrics e.g. cotton, linen, terry cloth or silk. The grooming staple some people never live without is a silk scrunchie to repress the sad hair. We also manufacture hair scrunchie with silk for less friction, breakage prevention and smoother hair. It is available in small and large sizes. You'll look fierce with your silk hair scrunchie.
More consumers care about the environment and searching for responsible, biodegradable and low carbon impact hair scrunchie wholesale suppliers. Our products are made with a cotton and rubber mix to reduce hairline breakage and prevent knotting. We use eco-friendly materials, sustainable dye and organic silk to meet the consumer needs.
Hair Scrunchie Manufacturer, Wholesale Supplier - Frequently Asked Questions
What is the process of hair scrunchie wholesale?
The hair scrunchie manufacturers will provide samples and brochures for customers to choose the styles. After customers confirm the pricing and send payment of bulk purchase order, hair scrunchie manufacturers will ship them to customers.
What is the shipping, tax and return policy of hair scrunchie?
The shipping is expected to be 1 to 2 months depending on the shipment schedule. Shipping may be delayed due to uncertainty and high demand under the pandemic. We are not responsible for the tax payment. Please consult your customs department before making the order. A 7-days guarantee return is allowed for hair scrunchie wholesale.
What is the MOQ of ordering hair scrunchie?
The MOQ of hair scrunchie manufacturing is XXX while hair scrunchie wholesale will be XXX. Contact us and make your first order now!
What is the finish of a hair scrunchie?
Most hair scrunchie manufacturers will finish the hair scrunchie in glossy or matte. We also provide different sizes and colors for hair scrunchie wholesalers to choose from.
Is hair scrunchie manufacturer and wholesale eco-friendly?
Consumers have become more sensitive to the environmental impacts of their shopping decision, hair scrunchie manufacturers' responses by using low carbon manufacturing, biodegradable materials and eco-friendly to prioritize sustainability.